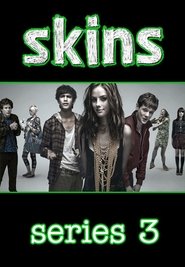 Skins Season 3 Episode 1
It's the first day of term at Roundview College and a new gang is forming. Best friends Freddie (Luke Pasqualino), JJ (Ollie Barbieri), and Cook (Jack O'Connell) are en-route to college. Their world collides with Effy's (Kaya Scodelario), and Cook is intrigued – this trouble maker has met his match. However, both Freddie and JJ are equally smitten.
Identical twin sisters, Katie (Megan Prescott) and Emily (Kathryn Prescott), prepare for their first day; as per usual, Katie walks all over her sister Emily. Once at college, Effy and Katie clock one another immediately, whilst Effy's best mate Pandora (Lisa Backwell) tells Effy she wants to lose her virginity "asap".
At college, Cook tries to charm the girl sitting next to him but instead winds her up. Naomi (Lily Loveless) doesn't suffer fools gladly and grasses Cook up.
Effy issues smitten Freddie, JJ and Cook with a challenge to be completed by the end of the day. The winner will get to 'know her' better.
And so the first day at college begins…
Episode Title: Everyone
Air Date: 2009-01-22
Year: 2009