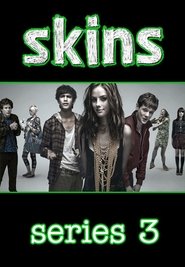 Skins Season 3 Episode 4
"Pandora" is the fourth episode of the third series of the British teen drama Skins, which first aired on 12 February 2009 on E4 in both Ireland and the United Kingdom. The episode was written by Bryan Elsley and Georgia Lester, and was directed by Simon Massey. The episode focuses on the character of Pandora Moon, who is miserable after her boyfriend, Thomas Tomone, recently returned to the Democratic Republic of the Congo. She holds a small pyjama party for her friends, but it descends into chaos when uninvited guests arrive and the food is spiked with drugs. Pandora and Effy get into an argument after both girls have sex with James Cook, but the argument is interrupted when Thomas unexpectedly returns.
"Pandora" was filmed in September 2008. It featured guest appearances by Sally Phillips and Harry Enfield, as well as real-life partners Morwenna Banks and David Baddiel, who played on-screen lovers. The episode brought in 701,000 viewers and was E4's highest-rated programme of the week. It received generally positive reviews from critics. Harry Enfield and James Fleet who both appear in this episode previously starred together as father and son in the 2000 film Kevin & Perry Go Large.
Episode Title: Pandora
Air Date: 2009-02-12
Year: 2009